The focus of my current work is abstract. I usually paint with mixed media, focusing on form, colour, composition, movement, and emotion. In university, I did traditional Japanese and Chinese painting in a Korean style. During my graduate studies, I painted objects in acrylic, yet it was a combination of western abstract and oriental paintings which I identified as my signature style.   This is a unique style that I have developed through my personal studies and experience in both the West and the East.
My work is conceptually concerned with human relationships. In some of my work, I use horses as symbols to convey my emotions and compliment the overall feeling of a piece. The surfaces of
Whispers of the Horses
reveal themselves through boldly applied colours and textures. When I am moving the brush across the surface of a canvas, it is crucial to me that I paint intuitively. These spontaneous forms appear on the canvas unintentionally and I often leave them unchanged. As such my compositions often find their own form and are often subconscious renderings of intuitive ideas. My hope is that my paintings tell their own story.
Moreover, my painting
Beautiful Bonds
was motivated by the spirit of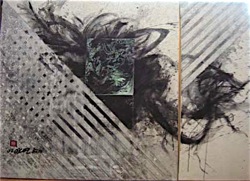 creation. This body of work is a mixed metaphor for how I live my life. The painting is designed to evoke thoughtfulness and metacognition. The process of visualizing an idea and bringing that idea into imagination in collaboration with the fences is expressed abstractly in the painting. It requires great thought and hard work to bring the forms and movements together harmoniously.
When I paint pictures I follow my emotions and feelings. I choose material to match the feelings that I am trying to express. For these reasons, I think it is important to paint.